TOTILAS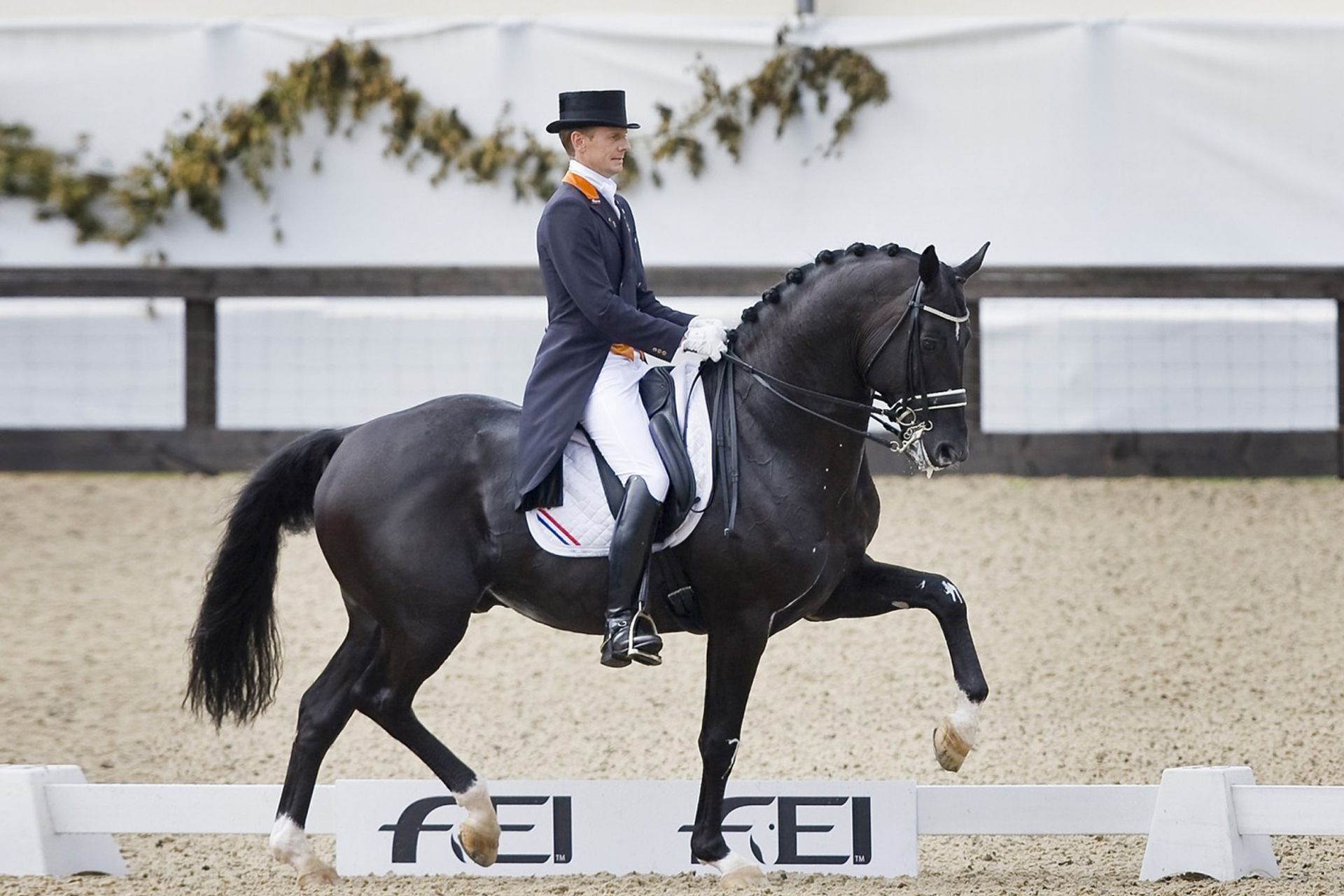 Totilas & Edward Gal
Totilas (2000-2020), the stallion of all records! He has marked an entire generation with all his titles and has modernised dressage in the world. His first generations regularly stand out in the dressage ring and confirm his value as a stallion.
ORIGINS
▶ Gribaldi, a Trakehner stallion, born in 2000 was successful in International events with Edward Gal. He is ranked 17th in the WBFSH Sire Ranking for DressageD in 2019 and is progressing to become World No. 1 in 2014.
He has produced some exceptional horses throughout his life, such as World Cup winner Painted Black with Anky van Grunsven, Sister de Jeu with Edward Gal, Peter Pan with Beatriz Ferrer-Salat, BMC Pasternak with Coby van Baalen, Girasol with Nadine Capellmann or Zardin Firfod with Patrik Kittel. In Germany alone, there are 25 licensed stallions, including the Trakehner Stallion Champion, Imhotep and the runner-up, All Inclusive.
▶ On the maternal side, Glendale, Akteur, Pericles xx and Farn are predominantly Holsteiner stallions, all of whom have played an important role in Dutch breeding, based on the Oldenburg line of Freiminka (by Godin-Rheinfürst, etc.). Many successful sport horses and licensed stallions have been bred from this line, such as Topas, Palermo and Marius.
PERFORMANCES
▶ Triple World Champion at the 2010 World Equestrian Games, European Champion in 2009 and winner of the World Cup Final.
▶ His records are his trademark and Totilas embodies a living legend. He has modernised dressage and brought it a popularity never seen before. He has set three world records, which he has always broken himself.
▶ In just two years, this exceptional stallion has won every possible title under the saddle of Edward Gal, he won individual and team gold twice at the World Championships in 2010, was European Champion in Windsor individually and as a team, winner of the World Cup in 2010 and was the best German performer among the silver medal-winning team in 2011 with Matthias-Alexander Rath.
▶ Silver medal at the German Championship in 2012, winner in the Grand Prix Special as well as in the RLM.
▶ In 2014, Totilas remained undefeated in his performances in Kapellen/BEL, Wiesbaden, Perl-Borg and Aachen and was part of the German team that won the Nations Cup in Aachen.
PRODUCTION
▶ World record for selling a foal for €200,000 in 2012. He has 22 approved sons including Total Hope (Totilas x Weihegold), Glock's Toto Junior (Totilas x Desperados)...
▶ Governor is Vice World Champion of 6 year olds with Adelinde Cornelissen in 2017 and 5th in the World Championship of 5 year olds in 2016.
▶ Hebene, Hellgirl KXL and High Hope Kxl were 2nd, 6th and 9th in the French Championship for female foals in 2017.
▶ At the 2018 World Championships in Verden, Governor was Vice World Champion 7-year-old (5th at 5 and 2nd at 6) with A. Cornelissen,
Gotilas du Feuillard was 12th with Corentin Pottier.
▶ In 2019, at the World Championships in Verden, Total Hope is Bronze Medalist of the 7-year-olds with Isabel Freese.
The KWPN studbook honours Totilas at a show named "Black Magic" with two of his sons, Glock's Toto Jr ridden by Hans Peter Minderhoud and Total US ridden by Edward Gal.
In France: Gotilas du Feuillard, Champion of the 7 year olds and placed on the Grand Tour, IDR 159(19); Babylou de Fondcombe, finalist at 5 years old, Label "Très bon"; Hébène is 9th of the 2 year old females at Saumur.
And in eventing, Danse avec les Loups ICC 123(19) stands out.
He has 3 stallion sons approved by the KWPN at the 2020 assessment.
In Germany alone, he already has 28 approved stallion sons and 36 state prize-winning daughters!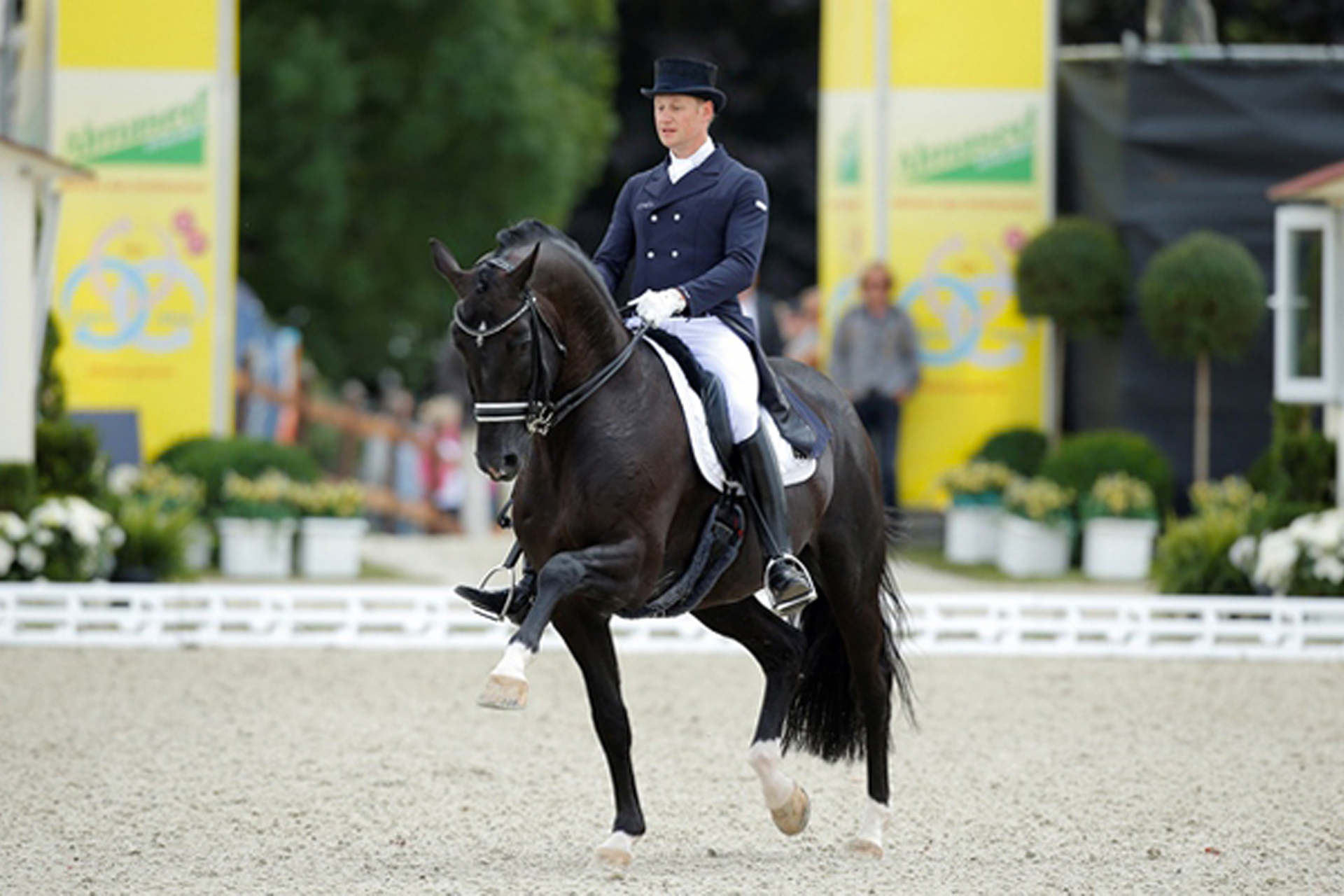 Totilas & Matthias Alexander Rath
MOTHER'S ORIGINS
Born in the Netherlands out of th mare Chadine II, Ster, Prok by :
SORENTO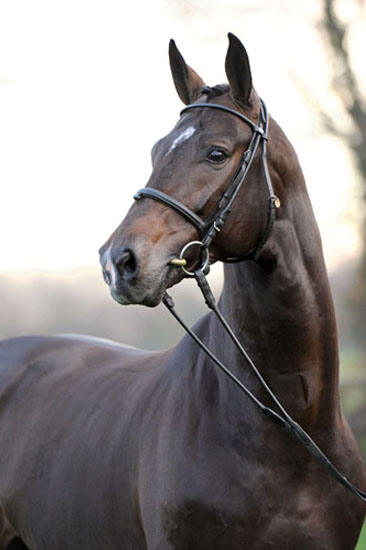 Sorento
▶ His dam, Chadine II, is by the stallion Sorento.
▶ Sorento has a first generation of outstanding foals. Her sire, Sandro Hit is a highly sought after Oldenburg breed leader in German dressage horse breeding, himself a World Dressage Horse Champion and Federal Champion.
Sorento's dam is a daughter of Donnerhall who produced her own successful sister Velvet and Silk. The dam of Dein Liebling S, has blood from the stallion Pik Bube I, the best known son of the Celle Stud stallion Pik König, and from the line of the Hanoverian mare 853 / Sudette via Joker.
▶ Stemming from the cross of the elite stallions, Sandro Hit x Donnerhall x Pik Bube I, Sorento has excellent genetics.
His sporting successes speak for themselves, with seven wins and numerous placings, Sorento OLD and his rider Stefanie Wolf stood out last year.